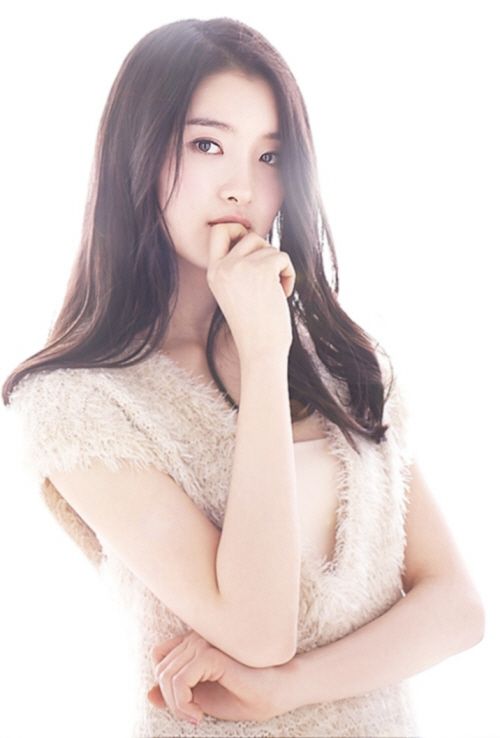 Jacked the piece below from chuujitsunashinmin
There aren't many K-pop idols to whom you can refer as "special little angels oh my god" and be entirely correct.  E-young is not only included in this grouping, but would likely be its best representative.
Special:
E-young is all sorts of talented.  This is kind of her selling point, so everybody already knows it — in fact, it is what drew me to her in the first place.  I often tell people that I'm not very metal, and I'm not that into looking "metal", but a girl in K-pop that likes metal?  That is a person I had to be a fan of.  A K-pop girl that can play metal?  That kept me thinking about her for weeks after her debut.  In fact, the thinking hasn't stopped.  I think about how cool this girl is all the time, and to watch her play the guitar solo from X-Japan's "Weekend" is one of my private musical fantasies.  She could totally do it, and it'd be fucking awesome.  E-young always goes at everything with all she has, be it learning instruments or learning a new language.  Through her fantastic work ethic, she's managed to get her greeting in Japanese to sound totally fluent, and her Korean accent when speaking English is almost negligible.  Not only is she metal as fuck, she's someone to be admired by all.
Little:
E-young is pretty short.  After School as a whole is an unusually tall group of Asian girls, but E-young is on the lower end of the scale.  However, here "little" also has a few more meanings, like how she was (until recently) the very youngest in the group.  She joined when she was just finishing off her seventeenth year, but by the time she had her Gayo Daejun debut performance (which I still watch all the time) she was eighteen in a group with a leader going on thirty.  Usually you kind of feel like you have to root for the maknae, but E-young seemed to slide in naturally whilst making lots of close friends within the group.  She's especially close to Bekah and Lizzy, and now that Kaeun has joined they seem to have formed a special friendship as well.  By all accounts, E-young is easy to get along with no matter your age.
Angel:
Just look at her.  She's constantly adorable.  She can't take a picture that isn't the cutest thing I've ever seen.  She's whiter than snow, has a smile brighter than the stars, and she actually has a nose that could be described as "button".  There are not many people that look as close to the general public's idea of an angel as E-young does.  She's also got a personality to match, too, accomplishing everything gracefully with either a passive look or a dazzling smile.  With E-young, there is very little in-between.  She either looks like a princess, seriously handling state affairs, or like your kindly little sister who's always ready with a smile and encouragement. It's no wonder the nickname she was given in Japan is "聖子" — "Holy Girl".  She is truly celestial in all Earthly senses of the word.
Oh my god:
Despite having essentially the opposite endowment as say, Lizzy, E-young really wanted to try a sexy concept like Flashback. She's just got all this confidence, and it doesn't come from somewhere arrogant at all.  Rather, E-young knows she can do it because she's willing to put in all the work to make things happen.  You all know how her Flashback photos turned out.  They're probably some of the sexiest things I've ever seen.  To be fair to the others, though, I like literally everything E-young does.  I like how her left eye can't open as widely as her right.  I like that awkward ski jump hairstyle they keep giving her (but only on her).  I even love it when she wears giant sunglasses, and I hate giant sunglasses.  The only thing I don't like regarding E-young is that we still haven't seen very much of her offstage.
E-young is exactly what an idol is supposed to be.  She's talented at all sorts of things, she looks like a mythological beauty goddess, and she's always got a good attitude and is ready to work hard.  As I said before, E-young is someone to be admired, someone to be looked up to, and someone to be emulated — an idol in every way. [chuujitsunashinmin]